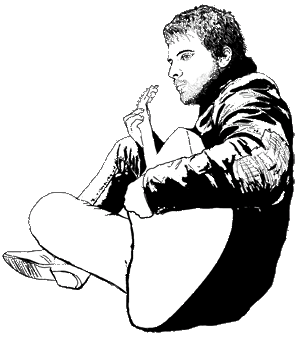 A number of bands rose to the surface during the explosion of popularity within the emerging screamo / post-hardcore genre. Taking Back Sunday and Thursday had the hair and the hooks that made them fodder for a major label feeding frenzy. Meanwhile, in early 2001, an anomaly was emerging out of Orange County. Armed with fiery vocals, breakneck drumming, and cascading guitars, Thrice materialized from the land of air pollution and boob jobs with a live show that stopped traffic and lyrics that read like a doctoral thesis.
Soft-spoken frontman Dustin Kensrue has spent the last six years forging a band founded on honesty, generosity and a genuine thirst for the truth about life, love, and faith. Each release is as epic as the next and Thrice continues to up the musical ante while donating to non-profit charities. Proceeds from their 2006 album Vheissu went to the 826 Valencia foundation, which helps children ages 8-18 develop their creative and expository writing skills, while Artist and the Ambulance in 2005 benefited the Syrentha J. Savio Endowment, an organization that provides chemotherapy and other medication for individuals who cannot afford the expense.
Thrice has settled into their newfound fame and proven that they have a musical agenda of their own. Vheissu marked a fearless transformation from the past and showed more experimentation and less formula. As summer approaches, Kensrue and the band will continue to evolve with the completion of a highly anticipated four-disc release.
With a break in the action and awaiting his first child, Kensrue took to the studio in late 2006 to record his solo debut. Featuring stripped-down production, Kensrue uses his pen and an acoustic guitar to craft a deep, albeit brief, album that chronicles a thorough and uncomfortably honest self-examination. On a transpacific flight to Australia, Kensrue took some time out, before Thrice's latest international tour, to answer some questions about his solo album.
Thirdeye: What were some of the lyrical and sonic influences for these songs?
Dustin Kensrue: When I'm writing I don't usually see where the influences come from. When I'm recording, sometimes I will draw from a certain record or artist to get a certain vibe. Usually, I can't see influences till it's all done though. Looking back on this record I see influences from Bruce Springsteen, Elvis Costello, Cat Stevens, Bob Dylan, Johnny Cash, Ryan Adams, The Band, and on and on really. Little bits here and there are pieces of everything.
TE: Were there any major events in your life that inspired the songs on this record?
DK: No events per se. Experiences, yes. The ones that stand out would be my experiences with my wife that are the inspiration for "Pistol" and my own struggle to understand life, faith, and everything that is the basis for "I Believe."
TE: What led you to release your album on a new label?
DK: I was basically looking for a label that would be flexible on working out a simple 'one record' deal with me. But more importantly, a label that seemed genuinely excited to put a record out with me. Equal Vision was both of those things and is a record label that I was very familiar with, growing up listening to a lot of the records they put it, so it seemed like a good fit.
TE: How many tracks did you originally cut and why did you unconventionally choose to go with only eight?
DK: I was planning on recording around eleven and when I got the eight done that are currently on the record, I felt like the record was complete. It's definitely not something that everyone is doing these days and has bummed some people out, but I don't think there needs to be any standard number of songs or playing time for a record. Once you start playing to those rules, you compromise the vision in one way or another. Two of my favorite records (the last two Talk Talk records) are only six songs each.
TE: This album, and previous Thrice releases, talks about towing the line between sin & virtue. How do you think you've changed over the years, both philosophically and spiritually, and what conclusions have you come to?
DK: Well, this is what the song "I Believe" is about. Basically, the major point of the song is that at a certain point, faith is a choice. Faith in anything is a choice. We are human and therefore our knowledge of anything is never perfect. This is not to say that we should not inform ourselves as well as we can, but we should not expect the answers to be clear cut or easy. Another theme in the song is touching on the various kinds of "knowledge" we posses that are not necessarily logical. To even begin to reason we have to make certain basic assumptions (i.e. the assumption that our ability to reason corresponds to reality) and I believe we have to make certain assumptions about the bigger questions in life, based on our feelings about the world. For instance, I don't believe that I live in a world without real right and wrong actions. It rubs against everything I feel about life and that is a valid point to consider in my conclusions about morality and where it comes from. For an interesting read along these lines I would recommend Orthodoxy by G.K. Chesterton. I'm starting to believe it might be my favorite book ever.
TE: You mentioned you recently shook hands with a presidential candidate, who?
DK: Well, he's now dropped from the race. It was Tom Vilsak and it was on the Tonight Show.
TE: Any early favorite for your vote for 2008?
DK: (laughs) Not yet.