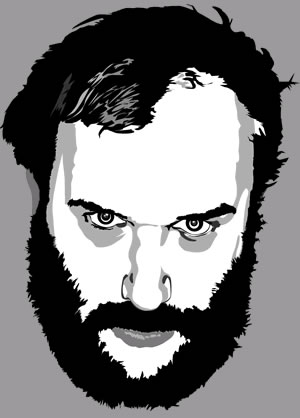 Thirdeye: What ultimately led you to put Pedro to sleep, so to speak?
David Bazan: It was just that basically, after my Control touring cycle, I really wanted a regular band. All my life I'd been playing with my buddies and they were great, but it was just that sort of long-term investment into the music that didn't lend to a revolving door. So I really wanted, like I said to have a band 'cause I just felt like I was doing karaoke kind of and so the first guy on my list was Tim Walsh. Then out of the blue he called me up about a week after I had made that decision and said "Hey I'm moving out to Seattle. I want to be in the band," so at that point it was just, like, on. Everyone was getting kind of worn out with Pedro and I was kind of tired of it – but that was sort of a new beginning. Then two and a half, three years later, Tim quit for various reasons and I just didn't want to do it anymore.

TE: Aside from the songs that serve as internal dialogue, how much of your songs that serve as stories are based on autobiographical events?
DB: Very little is autobiographical in the sense that it has to do with my personal history. Yeah, very little of it… I'm trying to think…there maybe five songs total… and usually those aren't narratives. Like "Secret of the Easy Yoke", although it's autobiographical the specific events in the song, didn't really happen that way, they're representatives so no none of the narratives are autobiographical so far as I can tell.
TE: You released two consecutive concept albums – Winners Never Quit and Control. Winners Never Quit tells the tale of two brothers – the golden child politician and the black sheep drunk. The album ends with the imprisonment of the drunk and the murder/suicide of the politician and his wife. How did the story within WNQ develop?
"Oh this is what happens, the guys a politician, his brother's a drunk…Oh shit! He's gonna kill his wife and this election is being fixed somehow."
DB: With WNQ I set out to write a concept album, whereas with Control (the story of a husband's infidelity, a wife's devastation and the tragic ending that follows) I never did. So I wrote "Never Leave A Job Half Done" and that was the first song I wrote for WNQ. I had some idea after having written "Never Leave A Job Half Done" that I wanted to write a concept record but I didn't really know how it was going to work out or what the concept was going to be. The opener, "Slow and Steady Wins the Race," I always thought, was kind of a mysterious song that always kind of seemed like a children's story and it set up these two characters. The third song I wrote for the record was the closer, "Winners Never Quit." From there I thought "Ok, I've got an arc now, I've got a beginning, a middle and an end, now I've just gotta fill in the other bits." So I just started doing that slowly but surely. I'd just be driving around thinking about it and then suddenly I'd realize, "Oh this is what happens, the guys a politician, his brother's a drunk…Oh shit! He's gonna kill his wife and this election is being fixed somehow." Which comically, that was the part of the story that was I felt the weakest because it seemed so far fetched – that a politician would fix a national election or even aspire to do that cause it is just so ridiculous, then not to long after that (laughs) it actually happened. Which is amazing to me, I was flabbergasted by that – I guess as we all were. It helped the story be more believable I think. So that's how it unfolded. Usually I would get ideas for the plot points and then I would figure out the tone of the song and represent that plot point in the song – what the characters might be doing or saying that would sort of represent that. It's a little bit lop-sided; the so-called good brother gets most of the action. I don't know. That's just how it worked out.
TE: We've been at war now for several years and that has vastly changed a lot of things including the musical landscape. For the first time since the Vietnam War we are seeing a lot of political songs of protest and even entire albums dedicated to denouncing the war in Iraq. Is "Backwoods Nation" (off Fewer Moving Parts E.P.) your protest song?
DB: Well, yeah. I wrote it in September 14th, 2001 and I was mad as hell and I was really angry and terrified at our response to 9/11. It just seemed surreal to me. I still play [the song], I put it on the thing five years later and there's still something about it that I dig but I also understand that it's not really like…um, it is a rant and there are generalizations that are not completely defendable as sort of a statement when you pick it apart on some levels. I mean, it makes generalizations about frat kids that maybe aren't totally fair but it still sort of stands as an expression of my rage at the point when I wrote it that I think is valid. It's complicated because I realize that it's a little heavy handed to one side but at that moment when I wrote it and even now I can still really identify with those feelings I was having and it is…I mean that the thing about it, you try to be a reasonable person and interact with other people about and have discussions about it but when you pull back and look at it in the view of history or any reasonable eye – it's fucking insane -totally insane. It's tough to know what to do with that feeling because you don't want to be a dick you don't want to be unreasonable with people you like who are otherwise totally intelligent but who are sort of not willing to think outside of that comfort zone. In that way ["Backwoods Nation"] represents that flabbergasted, perplexed feeling that I get when I think about just how many people who are totally intelligent are supporting these insane policies that are not in any of our interest. I couldn't believe what I was hearing come out of the President's mouth – "good and evil"- all this shit. It was just a total…total mindblower. So yeah, I guess it is my protest song.