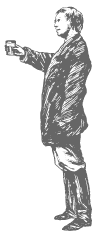 Lies, Deceit, Shame in defeat
Trading lives for moments of glory
One by one the morals diminish
Eating themselves alive
Intimidated by the impending doom.
The human race is left with
Only pieces of its broken word and
The horrors that penetrated the useless defenses
Because nobody was valiant enough to
Believe in the darkness, in the cold
No one dared to be bold and
Stand up and fight against
The shadows that came
And were able to consume the world
Leaving us in misery and fear
While no one shed a tear for their home or soul
As the never-ending night took its toll
Now here's to the loss of our freedom
As we come to be enslaved by
Our own faults and ignorance
So raise your glass to the darkest sky:
Painted black from years of unfortunate neglect
No hope for Redemption
No chance of Liberation
No promise of Salvation this time
Take pride in the race that
Was able to destroy itself
Here's to The End.
Cheers.