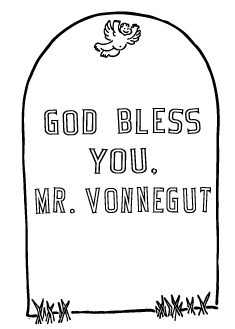 You lived through the firebombing of Dresden during WWII, a suicide attempt, and a lifelong obsession with unfiltered Palmal cigarettes, dying from a head injury at the age of 84.
So it goes.
Mr. Vonnegut, your voice of reason and satiric wit will be sorely missed in this dark age. Colin may be out of the picture, but for now we're still stuck with the Dick and Bush.
But your spirit will live on in the form of the memorable characters you've created – Kilgore Trout, Eliot Rosewater, and the Tralfamadorians, to name a few. Thank you, thank you, thank you. Your dark and biting humor has allowed us to laugh our way through the mass-destruction inflicted by warfare and industry technology. The wisdom you'll continue to impart from beyond the grave will become increasingly valuable as we face new challenges from the dehumanizing institutions you railed against.
Perhaps you'll become stuck in some chrono-synclastic infundibulum, reappearing on Earth sporadically. We'll keep our fingers crossed.
We are immensely fortunate that your work wasn't tragically lost inside the pages of smut magazines advertising "wide open beavers inside."
You alleviated our loneliness and abrogated our sorrow. You called into question our free will and invented new religions. We'll pledge our allegiance to Bokononism and the Church of God the Utterly Indifferent. We may be pooped and demoralized as we try to eke out a living on this festering cheese of a planet, but your writing will continue to help us through the worst of it.
Kurt Vonnegut Jr., may you rest in peace.