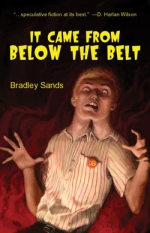 The bizarro world is a quickly growing literary genre. It's not that the storytelling style is new, it's simply catching on in the mainstream. The stories are not quite horror. Nor are they fantasy. In fact, many of the tales told in this subculture are flat out absurd. That's the whole point. They take place in worlds where anything goes and nothing is predictable. The lack of form and literary rules used in Bizarro fiction can at times be confusingly entertaining while actually managing to make sense through the tangled wording.
Bradley Sands, editor of Bizarro zine Bust Down the Door and Eat All the Chickens, has created a world like no other. It's a world where penises have their own presidential campaign agendas and physical places can get up and walk themselves away. Imagine being swallowed by a giraffe, who turns out to be a time machine, only to be transported into the future and dumped somewhere between an acid flashback and a cartoon character on PCP. This is the world that Grover Goldstein finds himself stuck in throughout It Came From Below The Belt. Assumption High is the name of the school that Grover is propelled into at the onset of the novel. He becomes lodged inside an alternate universe at a school where he is picked on by students. Aside from students with names like Blender Noogie, Grover meets an interesting faculty who seem to be out to get him throughout the novel. Dealing with the school's nurse and principal prove to be no easy task for Grover who only wants to go back to his own time and return to the comfortable lifestyle he's used to.
Bradley Sands' first novel is a stunning debut jam-packed with excitement and witty, disguised pop culture references. This is the first work that gives the reader a look into the creative mind of a very talented individual and suggests an extremely successful future in the Bizarro world. Part novel, part play, part choose your own adventure book, It Came From Below the Belt is a wonderfully imagined, completely wild ride without any discernible outcome until the unrelenting insanity contained within the last few pages.