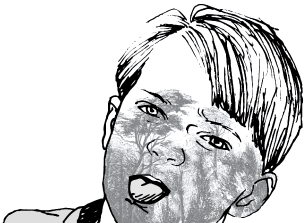 Aunty always told him never to leave home. She warned him that no good would come of it. He knew that outside was off limits to little boys, but his curiosity was insatiable.
He should have listened, because now he's lost. He's scared, and alone. More important, he's probably going to die.
It's a virtual jungle around him, choking out the light. Verdant growth, vines of the soul. Lying here, on the soft coffin of the forest floor, he remembers the stories she used to tell.
"The incubation period is one hour," she'd say, "and after the onset, they'd first feel like they were suffocating. Like someone was smothering them slowly with a pillow in the night. We devised it that way, so they would know what they had been doing to the planet all this time."
He remembers her laughing, as ringing vibration.
"Kaspar, you should have seen their faces. The contorted looks of terror. They didn't understand. We were very professional about it. We'd render their bodies into organic fertilizers and spread them through the reconstruction zones," she'd pause, "we were doing them a favor."
Lying here now, he's pretty sure it's been almost an hour since they found him.
Aunty allowed him pets. Anything he wanted. He had birds, fish, reptiles, mammals, and amphibians. Insects and arachnids. He named them all, treating them as siblings. If one died, he had a funeral. His yard was teeming with plants of all kinds. Many were edible, some medicinal, and she'd teach him everything she knew about them. She was the closest thing to a mother he'd ever had. She'd bake him cookies.
"You're such a good boy," she'd say, "stay with me and I'll take care of you. I'll make sure you never get sick."
She made him a plethora of playthings. Brainteasers and puzzles, crayons and pencils. Mostly meant to further his cognitive development. He spent much of his time drawing. Picture after picture, painstakingly detailed sketches of how he imagined the outside world may look.
During the evenings, she'd read him literary classics she had committed to memory. She'd show him some of the greatest art ever produced, and through her lessons he discovered the better aspects of his kind. It made him happy to be human.
Yet, he so desired to find another child like himself. Someone with whom to share his earthly experience. Aunty told him he was the only one, but he had to know for certain.
Pages: 1 2