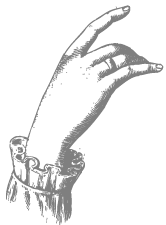 The silver band of my ring
flashes across the bare skin of these walls.
Eyes, desperate, yearning, coat my thoughts
and ask me questions.
I open my mouth wondering but the words
are tied and knotted in my throat,
strapped and bound – my eyes.
Take a walk, concrete steps
like an arrow guide me back
and through a lifeless metropolis.
Choked inside, I am seated straight and working.
My thoughtful fingers
work methodically in an easy orgy
of motion beside motion.
He, great lead, holds his hand around my wrist
and smiles perfect teeth, kisses my neck
with force. I feel caught; have I lost the link, mind
to actions? I am filled with lead,
weighted; I am a land-buoy in the open waves
before a melody of steel and smoke.